The Cowfish at North Hills - Raleigh, NC

North Hills - CAPTRUST Tower
4208 Six Forks Road, Suite 100
Raleigh, NC 27609
(map)
Tel: 919-784-0400
Fax: 919-784-0401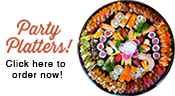 Located at North Hills, in the Captrust Tower.
Join The Cowfish Raleigh email list for coupons and specials!

Raleigh Menu
Click the link above to view the online PDF menu.

Hours to Devour
Sunday-Thursday from 11am-10pm
Friday & Saturday from 11am-11pm

Think you've got what it takes to be part of The Cowfish Raleigh team? To join our team,
apply here
.

Questions or comments for the Raleigh location? Please feel free to contact us!