The Cowfish at SouthPark Mall - Charlotte, NC

4310 Sharon Road
Charlotte, NC 28211
(map)
Tel: 704-365-1922
Fax: 704-365-1924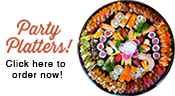 Located at SouthPark Mall, near Crate & Barrel.
Join The Cowfish Charlotte email list for coupons and specials!


Hours to Devour
Sunday-Thursday from 11am-10pm
Friday & Saturday from 11am-11pm

Think you've got what it takes to be part of The Cowfish Charlotte team? To join our team,
apply here
.

Questions or comments for the Charlotte location? Please feel free to contact us!